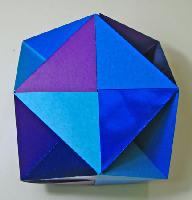 The Butterfly ball or bomb is an unusual, decorative modular fold that at the same time is an action model: Smack it into the air and it literally explodes into a cloud of butterflies.
The module is just a waterbomb base, simple as that. The assembly requires some patience, but adhere to the description below and most likely you'll succeed.
Thin paper is most butterfly-like, but stiffer paper (copy paper and upwards) is easier to assemble. Paper 7.5 cm square is suitable, giving a model width (and height) of also 7.5 cm. Smaller paper sizes are more difficult to assemble.
The description uses 4 different paper colours for clarity. This is also very decorative, but otherwise use any colors you fancy.
See also weekly fold 2008-42.
Thanks to Kenneth Kawamura for permission to present this diagram.
Core module (waterbomb base)
---
---
Assembly: bottom
---
Assembly: sides
---
---
---
Assembly: the top
---
---
Assembly: the final top module
---
---
---